Small Business Retirement Plans
Our Mission:
Our team approach to Qualified Retirement Plan administration and management was designed to simplify the experience of the Plan Sponsor. We strive to increase operational efficiency by reviewing and appropriately delegating fiduciary responsibilities.
By taking a hands-on and personal approach to Qualified Retirement Plan work, Michael and his team at CFS are able to provide Plan Sponsors and their Participants an excellent experience with extremely competitive pricing.
---
The Participants
The "Consumer Age" is upon us, and Financial Literacy is at an all time low. Our team proactively works to educate the participants on the importance of budgeting and saving, as well as making good spending decisions, such as distinguishing "Good Debt" from "Bad Debt."
Fiduciary Responsibility
Oftentimes a plan's Fiduciary responsibility is shared among multiple trustees and professionals. We take the Fiduciary standard very seriously and work first to confirm that all named parties are aware of their obligations to the plan, as well as the potential risks and personal liabilities that exist if that responsibility is neglected.
Education
Via one-on-one meetings with the eligible employees, we see increased participation in many of our plans. Engaging with each participant results in better outcomes and a healthier plan overall.

By sharing the pros and cons of Traditional vs. Roth, Loan vs. Distribution, and calculating the long-term benefit of participating in a Qualified Plan, we are able to instill in our plan participants a sense of understanding and excitement.
The Costs
Costs are a significant component of Qualified Plan work. We focus on how the fees are being paid. By offering a competitive and leveled fee structure using "Zero Revenue" share class funds, we provide full fee transparency and remove bias from our recommendations. These factors enable us to focus on the participants best interest and the growth of the plan over time.
Plan Design
Plan needs evolve over time. By reviewing the strengths and weaknesses of the current plan features, we are able to assess the need to alter the plan document to cater the plan to the evolution of participants and the business itself.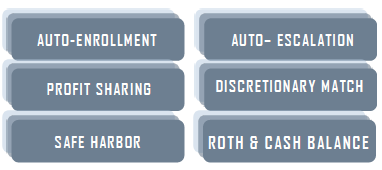 Peripheral Benefits
At CFS, we believe that a retirement plan should be a tool with which a company can attract and retain employees. Beyond that primary aim, there are peripheral benefits to retirement plans that must be prioritized and executed: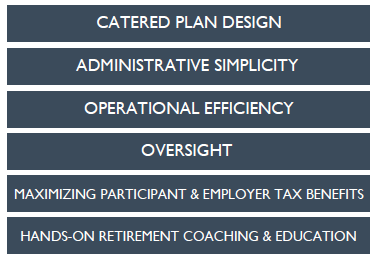 The CFS Commentary blog posts weekly about all manner of financial topics. Check out our posts regarding Retirement Planning!